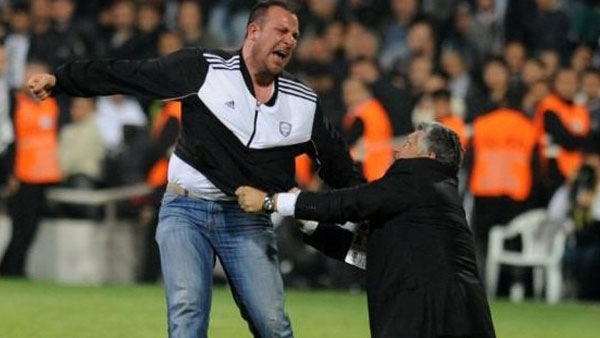 Besiktas fans invade the pitch after scandalous refereeing at Besiktas Galatasaray Super final game
Galatasaray beat Besiktaş 2-0 away at Besiktas Inonu Stadium in their Super Final opener, which was initially postponed due to heavy rain on Saturday, but scandalous refereeing and pitch invasion by angry Besiktas fans marked the night.
The Super Final, the play-off system the Turkish Federation hoped to revive the Turkish Football and Turkish Super League saw a scandalous starting week.
Besiktas vs Galatasaray : A nonsense called Super Final
A highly controversial goal by Brazilian midfielder Felipe Melo, very clearly in an offside position during a goalmouth scramble was the sign of bad things to occur. Felipe Melo, nicknamed 'Pitbull,' made the best of his nickname by assaulting his teammate Albert Riera last week, hospitalizing the Spanish midfielder.
However, Galatasaray manager Fatih Terim pardoned Felipe Melo, since his team badly needed the all-important 'dog' in the playoffs.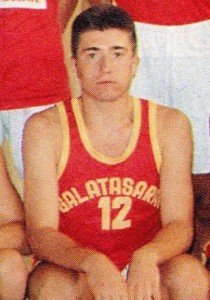 Huseyin Gocek wearing Galatasaray jersey in the days he played basketball at Galatasaray
The referee, Huseyin Göcek, massacred the game and tempers of Besiktas fans
The referee of the game Hüseyin Göçek, whose photos appeared on Turkish media where he had a Galatasaray jersey on, proved that the concerns of Besiktas fans were not for nothing. Felipe Melo's goal, clearly offside, was not the single mistake the referee committed during game.
Tempers flared with every passing minute as the referee made too many controversial calls and non-calls, virtually all of which went against Besiktas.
Besiktas fans invade the pitch to smite the ref and Galatasaray players
Then came the moment when Besiktas fans couldn't handle their frustration. Besiktas Inönü stadium's hell was unleashed on referee Hüseyin Göçek and on some provocative Galatasaray footballers led by Felipe 'the dog' Melo and former Arsenal player Eboue, whose antics in the most recent Besiktas vs Galatasaray derby at Inönü also caused altercations with Besiktas fans.
Several Besiktas fans invaded the pitch after 85th minute of the game as the result of their frustration not only in this game, but also in the two previous games vs Galatasaray in the regular season in which two disallowed goals from Besiktas and a last-second goal Galatasaray scored when it should have been called back due to an obvious foul.
The "nonsense" called the Super Final will continue with the Galatasaray Fenerbahce derby. The Super Final, highly unpopular among players and football fans, appears to have been imposed upon people for the broadcasters to make more money out of the "corruption" which is called Turkish Super League, a product of the Turkish Football Federation in cahoots with politics.
VIDEO:
http://www.youtube.com/watch?v=4JP8rjsUA_0&feature=player_embedded#!