UEFA AWARENESS
May 08
MANCHESTER UNITED CONFIRM: SIR ALEX FERGUSON IS RETIRING
KEIR RADNEDGE REPORTS — Manchester United have confirmed the retirement of Sir Alex Ferguson, arguably the greatest football manager of them all. A note was issued by the club at 9.15am after overnight speculation grew in intensity.
United launched a partial flotation in New York on August 10 and the rules and regulations mean that any significant information affecting the running of the club could not be held back.
In pre-quoted days clubs could afford to sit on speculation about a managerial change for days, weeks and even months. But this is not an option when the credibility of public valuation is at issue.
Ferguson's retirement had been the subject of rumour ever since he called a halt to his planned retirement in 2002. He is 71, has a heart pacemaker and will undergo hip surgery this summer. Not that these factors appear to have affected his energy, focus and ferocious ambition.
The Scot will not be the only major departure from Old Trafford this summer.
Chief executive David Gill, who managed the transition of Manchester United's ownership from the Edwards to Glazer era, is stepping down as ceo at the end of June.
Gill will be succeeded by Ed Woodward, the former Goldman Sachs banker who was instrumental in advising the Glazer family in their controversial leveraged buyout. Woodward has been the driving force behind the construction of United's 30-plus raft of sponsorships.
Favourite to succeed Ferguson is fellow Scot David Moyes whose 10 years at Everton are likely to come to an end with the expiry of his current contract this June.
Outstanding
Moyes has been a regular face in the directors' box at Old Trafford down the years when Everton have not been in simultaneous action.
Ferguson, born in Glasgow on December 31, 1941, played centre-forward for Rangers and was then an outstanding manager of Aberdeen and of Scotland at the 1986 World Cup. He joined United on November 6, 1986 and has now won 38 major  trophies, making him the most successful manager in the history of world football.
In 2008, Ferguson became the third British manager to win the European Champions League Cup on more than one occasion (after Liverpool's Bob Paisley and Nottingham Forest's Brian Clough).
Various tributes have been offered to Ferguson by United. In November 2010 the North Stand was named after him and then last year a statute of him was unveiled.
Work ethic
When the stand was renamed Sir Bobby Charlton, another United icon, paid effusive tribute to Ferguson, saying: "Alex is unique. I've never known anyone who works as hard as him. He's been sensational for United. When we first got him you could tell at once he had this incredible work ethic: he wasn't satisfied with second best, he wanted to be winning all the time.
"That hasn't changed but in our wildest dreams we couldn't have expected Alex to be so successful over all this time – especially when the average time for a manager to stay in any one place is just three and half years.
"He still loves the game and the challenge as much as ever and there is something special about how he sees into the future when he looks at young players. I don't know how he does it. He's marvellous. We directors have had very little to do since Alex came here."
That is about to change.
United have two matches remaining before they can take formal charge of a record-extending 20th league title; they end their season at West Bromwich on May 19 but play their last home match against Swansea this Sunday.
That, presumably, will be the occasion for Fergie's Farewell.
His last game will be his 1,500th game in charge. His record reads 894 won, 337 drawn, 267 lost with a win percentage of 60pc.
Brazil's regulators focus on third party ownership laws in bid to collect tax 'debts'
May 8 - Brazilian clubs, fighting proposals to ban third party ownership of players, face a new threat from their own government which is proposing to ban the controversial practice. 

The Brazilian government, in an emailed statement from the Sports Ministry, are preparing a proposal to ban clubs from selling player transfer rights to investors.

Brazilian clubs have, according to member of the lower house sports committee Vicente Candido, unpaid tax bills amounting to $2 billion. Much of this sum is believed to be related to third-party ownership plans, to which an estimated 90% of elite Brazilian players are subject, and which have constituted a major source of financing for Brazilian clubs.

On 22 April, a group of 21 Brazilian teams wrote an open letter to FIFA, copied to the Brazilian Sports Ministry, setting out their strong opposition to moves by UEFA and forces within FIFA to abolish third party ownership.

A number of agencies and investment funds involved in the business, often based in off-shore tax havens, argue the transactions are a legitimate form of lending and little different to the system of loaning players between clubs.

Jochen Loesch, president of international business at Traffic Sports, one company which has invested more than $75m in the rights of about 60 players since 2007, told Bloomberg in March, that any global ban "will be widely ignored by the market", and that any such ban would not withstand legal action.
By Mark Baber
(Source: insideworldfootball.com)
Apr 11
The European Parliament adopts match-fixing resolution.
The European Parliament has adopted a resolution that calls for a common and concerted approach by stakeholders to combating match-fixing in football and other sports.
The European Parliament has adopted a resolution that calls for a common and concerted approach by stakeholders to combating match-fixing in football and other sports. UEFA is committed to eradicating match-fixing and corruption from the game.
The parliament urged a coordinated and comprehensive approach to the fight against corruption and organised crime – currently undertaken through the efforts of sports organisations, national police, judicial authorities and gambling operators – by promoting discussion and exchanging information and best practices.
UEFA considers match-fixing as one of the main dangers to football's well-being and integrity, and is determined to protect the proper running of its competitions. In line with one of the motions adopted in the European Parliament resolution, UEFA practises a zero tolerance policy towards those found guilty of match-fixing.
"If the results of matches are known before the matches take place, there would be no point in playing the game," said UEFA President Michel Platini in welcoming the resolution. "Children would have to stop playing football, people would have to stop going to the stadiums. We are determined to combat those who fix matches and cheat, and will hand down severe punishments to anyone found guilty of manipulating the result of a match."
European football's governing body also operates a betting fraud detection system (BFDS) which monitors all matches in UEFA competitions – approximately 2,000 matches a season – as well as over 30,000 domestic league and cup games across 53 member associations. UEFA's approach also includes prevention through education; monitoring and reporting via cooperation with the betting industry; and action through punishment and disciplinary sanctions.

UEFA has also pressed for widespread cooperation between sports and state bodies to root out match-fixing from football, and deploys integrity officers within its 53 member associations who are working against match-fixing at a domestic level and collaborating with UEFA on any integrity matter which arises concerning their matches or their teams participating in UEFA competitions.
The European Parliament resolution calls on European Union member states to include match-fixing in their national criminal law and establish common minimum sanctions; to create specialist law enforcement units to tackle match-fixing and serve not only as a communication and cooperation link with stakeholders but also as an information centre to which gambling operators could give details of irregular gambling patterns.
In the resolution, the EU member states are asked to enhance European law cooperation through joint investigation teams and cooperation between prosecution authorities, and to emphasise the need for measures to combat illegal betting websites and anonymous betting. Information should also be exchanged on persons named in connection with, or punished for, match-fixing offences.
Furthermore, the European Commission and EU member states are urged to begin cooperation with third countries (i.e. non-Union members) to fight organised crime associated with match-fixing. These third countries include what the resolution calls "Asian betting havens" that may raise issues on betting-related match-fixing in respect of sports events taking place within the EU.
Finally, the resolution stresses the importance, in particular for sports organisations, of educating sportsmen and women, as well as consumers, from a young age on the dangers of match-fixing. It recommends that codes of conduct be drawn up for staff, players, referees, medical and technical staff, and club and association leaders – underlining the possible sanctions for match-fixing and making it an obligation to report any approaches concerning, or awareness of, match-fixing.
Galatasaray coach Fatih Terim gets 9-match suspension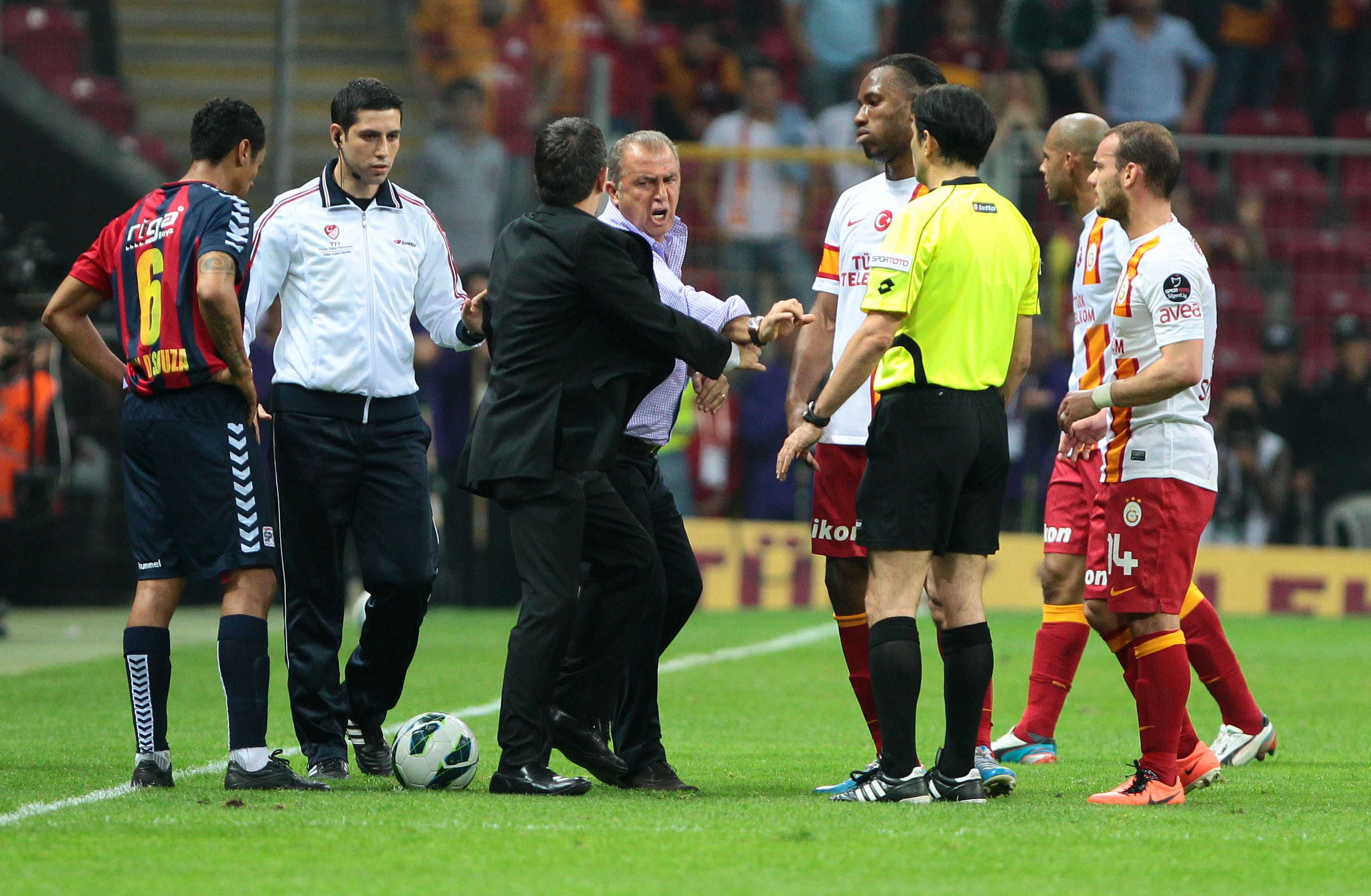 Turkey's Football Federation has banned Galatasaray coach Fatih Terim for nine Turkish league games for improper conduct toward the referee during a match against Mersin Idmanyurdu last weekend.
Thursday's decision bars Terim from leading Galatasaray from the touchline for six games this season and three games next season.
Terim's two assistants were given two- and one-match bans.
The Galatasaray coach was sent off on Saturday for slamming the ball on the ground in anger at the referee and for arguing with officials.
(Source: Sports Illustrated)
Message to authorities? Fenerbahce discuss racism in football ahead of Lazio match
Intro:
Fenerbahce coach Aykut Kocaman and striker Dirk Kuy prepare for Thursday's Europa League quarter-final second leg against Lazio. Lazio lead 2-0 on aggregate.
Script:
SOUNDBITE: (Turkish) Fenerbahce coach Aykut Kocaman
"Thursday's match presents us with many obstacles, first the fact that we are playing against an Italian team, then of course it is an away match. Galatasaray's match against Real Madrid proved that even when you start with a big disadvantage, you can find a way to recover. We are sure Lazio will try their best to cause us trouble and get a result, considering their qualities. Our goal is to produce a great performance and overcome all these obstacles."
SOUNDBITE: (English) Fenerbahce forward Dirk Kuyt
"I think it's difficult for a player personally to say what we have to do (about racism in football). I think the solution lies by the people above us."
SOUNDBITE: (Turkish) Fenerbahce coach Aykut Kocaman 
"I only want to add one thing to what Dirk Kuyt said: racism is not just football's problem, but it's mostly a problem lying outside of football. It's not just here in this environment that we have to discuss this problem and try to solve it, we need to solve it most of all outside the world of football."
(Source: 7msport.com)
Apr 10
Sanctions against Dynamo Kyiv due to racist conduct by supporters
FC Dynamo Kyiv have been ordered to play their next two UEFA competition home matches behind closed doors due to racist conduct by supporters. The Ukrainian club have appealed.
FC Dynamo Kyiv have been ordered by the UEFA Control and Disciplinary Body to play their next two UEFA competition matches at home behind closed doors.
The sanction relates to incidents of racist behaviour by the Ukrainian club's supporters at the UEFA Champions League Group A match against Paris Saint-Germain FC in Kyiv on 21 November 2012, as well as at the UEFA Europa League round of 32 first leg against FC Girondins de Bordeaux in Kyiv on 14 February 2013.
The first game behind closed doors applies to the next UEFA club competition match for which the club would qualify, while the sanction for the second fixture is deferred for a probationary period of three years.
The Ukrainian club have lodged an appeal against this decision. The date of the UEFA Appeals Body hearing has yet to be decided.
FIFA payments to top executives have soared 81% in four years
FIFA payments to so-called "key management personnel" have surged 81% in the past four years, according to figures in the world governing body's financial reports.
FIFA's 2012 financial report discloses that "short-term employee benefits" of $33.5 million were paidto "key management personnel." The figure represents an increase of 13.6% from 2011 when $29.5 million was paid out to the key personnel, who the governing body defines as "members of the Executive Committee, the Finance Committee and the FIFA management, in particular the directors."
The 2011 figure was a decrease from the $32.6 million paid in 2010, but a sharp spike from the $20.9 million paid in 2009 and the $18.5 million shelled out in 2008. To put all the numbers in perspective, the $33.5 million paid by FIFA to "key management personnel" in 2012 is a whopping $14.1 million increase from what was paid out just four years prior.
If questions are firing through your mind, you're not alone.
A little over a week ago Sport Illustrated spoke to FIFA and asked it to explain what comprised "short-term employee benefits". FIFA responded by saying that they "include the total compensation including wages, salaries and variable compensation as well as daily allowances." FIFA did not go on to explain the nebulous definition of "variable compensation" and "daily allowances," although one has to assume that it includes milk money.
FIFA also refused to respond to SI's question concerning how many "key management personnel" are in FIFA, although evidence suggests that in 2010 there were at least 34. But without specific numbers identifying "key management personnel" in each year from 2008-2012 impossible to determine whether new personnel have been designated with such a title and whether previously designated personnel are carrying home significantly greater benefits. FIFA also refused to comment on how much money Sepp Blatter makes for running the organization.
SI did manage, however, to speak directly to Mohamed bin Hammam – the FIFA executive committee member from Qatar who is running against Blatter for the upcoming FIFA presidency – and the wealthy businessman was more forthcoming. He explained that in 2010 he was paid $281,720 from his work at FIFA. But when it came to "key management personnel" even bin Hammam had no idea what the term referred to. "Key management personnel? Maybe this is professional stuff," Bin Hammam said. "Maybe it meant professional stuff, not for the executive committee?"
Yes, this is our sport's world governing body. Seemingly healthy as a horse and hell-bent on remaining shrouded in mystery. What a beautiful game.
(Source: prosoccertalk.nbcsports.com)
Apr 09
Turkish "Imperatore" throws a fit and "wins" the match… again.
Galatasaray technical director Fatih Terim got into a rage for the second time this season after his team fell behind last-place Mersin Idman Yurdu 0-1 soon after kickoff and were later reduced to ten men following a red card in the 30th minute. The experienced coach finally erupted uncontrollably before the final whistle of the first half drawing a red card from the referee. He was accompanied by his assistant coaches, Hasan Sas and Umit Davala, with second-half ejections.
The incident was the second time in forty days Terim was sent off after his players trailed in the first half. He was ejected after harassing the referee during half time in the match against Orduspor on February 25th as he watched his team go into the locker room trailing by two goals. In that match, Galatasaray assistant coach Sas was also booked and sent into the stands.
However, the 59-year old Galatasaray boss may have taken it a bit too far this time as he seemed to keep assaulting the referee, Suleyman Abay, along with nearly everyone else around him.
The "Imparator", as Galatasaray fans like to call him, effectively bullied the referees and the opposing sides in both matches into submission and turned possible point losses into victories, 4-2 and 3-1 respectively.
The Turkish coach has a history of embarrassing moments, including violent behavior at the end of the Turkey-Switzerland match in World Cup 2006 qualifiers. He would have lead Turkey to World Cup finals had his side won by three goals, yet the Turks could only manage a 4-2 win.
Fatih Terim was similarly suspended for three matches last season with two matches remaining, one which would have been against arch-rivals Fenerbahce in what constituted a championship face-off, but the sanction was deferred for a probationary period of one year. His team managed to eke out a Superlig title with a scoreless road draw against Fenerbahce.
Terim was not much different as a player. His retirement from football in 1985 also came at the heels of a red card after he attacked and then spat at the referee, Hamza Alan, following a red card shown to teammate Erdal Keser for cursing. The defender had to be escorted off the field by the police after refusing to leave the field.
Ensuing the incident, Terim was reportedly forced by Ali Uras, Galatasaray chairman at the time, to retire from football at age 32. Uras called his players' behavior "disgraceful" and arranged for his feisty player to apologize to the referee, reducing his suspension to five matches as a result and consequently helping Terim stay in the world of Turkish football avoiding a longer ban that would have prevented him from initiating his successful coaching career. For the record, Erdal Keser got two matches.
Turkish football spectators are curious to see what type of punishment will be seen appropriate by the Turkish Football Federation this time around.
Galatasaray chairman Unal Aysal met with the TFF chairman Yildirim Demiroren three days after his coach's Orduspor ejection in an apparent and successful attempt to demand the lightest possible sanction. Terim received three matches in total for what should have been the sum of the infractions from the 2011-12 season and in this season's Ordu match.

On Wednesday, April 8, Aysal, accompanied with two other Galatasaray executives, again visited the TFF and met with Demiroren. Turkish football fans are curious to see if preferential treatment will continue for Turkey's "Imperatore" with the final six weeks of the Turkish Superlig in sight.
Apr 04
Will Qatari expansion into world football continue?
JAMES M DORSEY: State-owned Qatari television network Aljazeera is exploring the acquisition of Spain's La Liga premier football league rights in a bid to expand its budding global sports franchise, tweak its business model in a world in which pan-Arab television is on the decline and compensate for mounting criticism of its coverage of popular revolts in the Middle East and North Africa.
Aljazeera's renewed interest in Spanish rights comes as financially troubled Spain's two major sports broadcasters, Mediapro and Canal Plus, which is owned by Grupo Prisa, are struggling under a mountain of debt.
It also follows a breakdown in talks with Rupert Murdoch's media empire, according to Spanish news website El Confidencial Digital.
Grupo Prisa with debts estimated at €3bn and Mediapro with liabilities of €300m hinted last year that they would not bid at current rates for the Spanish league rights when the broadcast contract expires in 2016.
Aljazeera's interest in the Spanish rights reaffirms its strategy of moving in behind other Qatar government institutions as they conclude sponsorship agreements and acquisitions such as the winning of the hosting rights of the 2022 World Cup, Qatar Foundation and Qatar Airways' sponsorship of FC Barcelona, and the television network's acquisition of French broadcasting rights in the wake of the Gulf state's takeover of Paris Saint-Germain.
It also fits Aljazeera's move into markets such as Egypt in anticipation that they will generate revenue at a later stage rather than immediately and Qatar's strategy of employing sports and media to leverage its global influence.
Aljazeera last year launched BelN Sports USA and early this year purchased former US vice president Al Gore's Current TV to ease the network's penetration of the North and Latin American markets.
Satellite stations
Aljazeera's emphasis on sports as well as its acquisition of local broadcasters such as Mubasher in Egypt reflects changes in Middle Eastern and North African broadcasting. Aljazeera's launch in 1996 revolutionized the region's news broadcasting that until then was dominated by state-run broadcasters who towed the official line with its free-wheeling coverage and debate of sensitive issues and willingness to offend governments.
As a result, it spawned the launch of a huge number of satellite television stations eager to grab a piece of the pie and make their mark.
It's a strategy that has paid off. More than anything else, Aljazeera and the 2022 World Cup have put Qatar, a tiny city state, on the world map, allowing it to project soft power and engage in public diplomacy.
Nevertheless, Aljazeera, which experienced a boom as the primary news source in the heyday of the Arab revolts that toppled the leaders of Egypt, Tunisia, Libya and Yemen, has seen its viewership numbers decline recently with Arabs turning increasingly to local news broadcasters and a growing perception that Aljazeera is in bed with the Muslim Brotherhood and other Islamist groups in line with Qatar's support for them in various post-revolt countries as well as in Syria.
Market research company Sigma Conseil reported recently that Aljazeera's market share in Tunisia had dropped from 10.7 in 2011 to 4.8% in 2012 and that the Qatari network was no longer among Egypt's 10 most watched channels.
Tunisia's 3C Institute of Marketing, Media and Opinion Studies said that Aljazeera Sports was the only brand of the network that ranked in January among the country's five most watched channels.
Assassination
Aljazeera reporters are reportedly increasingly harassed as they seek to do their jobs in Tunisia.
Protests that erupted after this year's assassination of prominent opposition leader Shukri Belaid charged that "Aljazeera is a slave of Qatar," accusing it of biased reporting on the murder because of the Gulf state's support for Ennahada, the country's dominant Islamist grouping.
Complicating Aljazeera's potential push into Spain is the fact that Spanish law requires one match a week to be aired on a free-to-air rather than a pay tv channel as well as the fact that each Spanish club sells its own rights which strengthens the negotiating position of teams like Real Madrid and FC Barcelona.
Grupo Prisa currently owns the broadcasting rights of Atletico Madrid, Celta de Vigo, RCD Espanyol, Getafe, Osasuna, Real Sociedad, Real Zaragoza, Athletic Bilbao and Real Betis while Mediapro's franchise includes Real Madrid FC and FC Barcelona.
El Confidencial Digital reported that Aljazeera was likely to revolutionize the $600m Spanish football broadcast market by acquiring La Liga's rights as a package with Mediapro acting as its broadcast sub-contractor despite Madrid and Barcelona's opposition.
JAMES M DORSEY is a senior fellow at the S. Rajaratnam School of International Studies, co-director of the University of Würzburg's Institute for Fan Culture, visiting scholar at the University of Würzburg's Institute of Sport Science, and the author of The Turbulent World of Middle East Soccer blog
(Source: keirradnedge.com)
Issue of tax-payer help for clubs when facing financial difficulties and possible probe targeting Real Madrid
BRUSSELS: Real Madrid have become the latest leading club embroiled in the European Commission's investigation into illegal state aid in football.
The Spanish champions are alleged to have received a favourable deal for land around the Santiago Bernabeu stadium from Madrid City Council as it seeks to develop a new shopping and hotel complex.
It has been claimed that the initial 1996 agreement was a cause of illegal state aid under article 87 of the Treaty of the European Community. The council is said to have over-estimated its debt to the club so it could grant Madrid the prime city-centre land required for the development.
Last month the EC opened an in-depth investigation into allegations of misuse of public funding at five Dutch clubs, including Holland's  PSV Eindhoven.
PSV, along with NEC Nijmegen and Willem II Tilburg, were pinpointed by the commission along with MVV Maastricht and FC Den Bosch.
The commission's investigation is designed to establish whether the measures taken by the five Dutch municipalities in favour of the clubs comply with EU state aid rules. None of those measures, taken in 2010 and 2011, were notified to the xommission, which said it was alerted by "concerned citizens".
It is also looking at measures in other member states which were brought to its attention and sent a request for information to all member states concerning professional football in October 2012.
Financial difficulties
At the time Joaquin Almunia, the commission's vice-president in charge of competition policy, said: "I strongly believe that professional football clubs should be well managed and not ask for help from the tax-payer when facing financial difficulties. If financial support is nevertheless given, then it should be granted under the EU State aid rules for aid to companies in difficulty."
Commenting on Madrid's inclusion in the investigation, Antoine Colombani, a spokesman for competition policy at the EC, told a briefing: "Citizens and companies in several member states have sent information to the Commission alleging state aid to various football clubs.
"The Commission is examining the situation of Real Madrid as it does with similar allegations that are brought to its attention. The Commission is currently studying the information at its disposal and has not yet decided whether to open a formal investigation."
The Madrid investigation centres upon an area of land in the north of the city, Las Tablas. Originally valued at €421,000 when it was part of a payment by the council to the club in 1998; the same land was then valued at €22.7m in 2011, a 5,400pc rise, when the council decided it had to take it back after a re-assessment of land classification.
Instead of the €22.7m payment, the club is alleged to have been given the land it needed around the Bernabeu.
Madrid told the newspaper it had not received "any special privileges in its real estate activities since it has always been subject to the then current legislation and has received the same treatment as any other entity."
The club added: "Acting like this, MCC, through the agreement with Real Madrid, has protected the municipal interests, avoiding judicial proceedings that when executed would have foreseeably resulted in an obligation to provide Real Madrid with a higher amount of compensation.
"The valuation of all the properties have increased due to the time lapse between the different valuation that in some cases exceeds 10 years, the degree of evolution of the urban development process and the evolution of property prices."
(Source: keirradnedge.com)